Exhibition Stands
Modular Exhibition stand
London audio visual can now offer a full solution for your next exhibition stand, we have invested in an eco friendly modular system that allows us to integrate visual screens and audio. We can also work with existing stand builders/contractors  and help integrate all av aspects.
With our new exhibition frame system possibilities are endless!
Since our exhibition aluminium frames can be combined with both panels and textiles they can cope with almost every design. Our seamless exhibition design system allows us to effortlessly meet the needs of the most demanding applications: a great looking stand with no visible seams in the walls.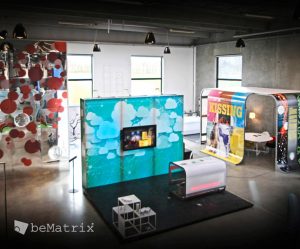 What can we help with?
Design & Build
Textile print
LED Screens
Video Walls
TV Screens
Audio & Lighting
Features
Fast build-up and assembling
Clean design look
Long-life-cycle and endless re usability
100% recyclable
Eco friendly
Seamless Print & Branding
Integrated Audio and Visual