LED Screens for Retail
Potential uses of LED screens in retail and experiential marketing
LED screens are a popular way for retail outlets to engage consumers and showcase your new season products. Window displays are integral reason why consumers choose to enter your establishment, so you want to have the image as clear as possible. One major benefit of having a LED display is that the advances in the technological equipment results in the image not being affected by the natural light.
LED wall tiles allow for your window display to be fully lit up with a LED display, there is no limit on the size of the LED display you want, so if you quite literally want to fill your window display area, a video wall will be sufficient enough in doing this, whilst not compromising on the quality of the image or footage.
As well as LED window display screens, our team at London audio Visual are trained in setting up LED retail signage pods and in-store LED screens. Kiosk stands within retail outlets are another way to attract your target consumer's attention. The display emits an image in full HD colour enchanting your consumers.
We understand the importance of creating awareness of your brand, our team can arrange a site-visit to discuss with you where the LED screens will be most beneficial and influential in marketing your products. As part of our service, we also offer configuring your video footage or images before the LED screens are set up, this way you are ready to start using the screens to their full potential as soon as our technicians have constructed them.
Why is the retail world not using LED Screens?
Is it because of –
Cost and perceived complexity?
Bad past experience?
Misunderstanding LED screen solutions?
Not understanding the power of LED in Retail?
What are potential uses of hiring LED screens and LED walls in retail –
1. Shop window
2. Wayfinding
3. Ambience
4. Zone identification
5. Design/architectural feature
6. Promotion
7. Fitting rooms
8. Cash desk
9. Special events/live streaming
10. Storytelling
1. Hire LED screens for (Shop Windows)
LED screens should be used to create an omni-channel online/offline brand experience or promotion campaign by offering you products and services 24hrs per day from your bricks and mortar store.
Advertise special offers, new products, click and collect services, attract attention of late night passers-by or simply reinforce your brand.
Most of our clients would hire our LED screen solution for short promotions and brand products launches, hiring LED screens is a cost effective and environmentally friendly way of achieving this.
Rental of LED screens also ensure that the shop windows do not become stagnant, some of our clients use their shop windows as a major launch pad for new sessions and products launches, visitors and passers by often look forward to seeing what's next…
2. Using LED screens for (Wayfinding)
LED Screens are often used for wayfinding, as they are easily visible and stand out from other store decorations. They can be located near stairs lifts and new areas the store would like to promote, sometimes seasonal areas like Christmas promotions and product launches.
We have worked with our clients in the past to use these types of branded LED screens for marketing new brands in the middle of a store, we have created fully branded smart totems with hi res LED screens and amazing content to capture passers-by within the store.
3. Ambience within the (Retail Store)
Many major retailers hire LED screens to create ambience inside the store for a promotion. Static or slow moving content doesn't take attention away from the products on display, but at the same time give the retail space a more high-end feel.
4. Zone identification
Maybe you have a new section within the retail store and you would like to make it a focus point for a perminat or temnpery solution, you can use LED screens for this.
5. Design/architectural feature
Draw attention to a specific part of the store or area, drive footfall, or simply promote a new product using creative LED displays as part of an architectural feature.
Our LED screens not need to be a standard 16:9 ratio screens, this means we can get very creative with how we use our LED screens, each LED tile is modular and can be mounted in to our modular structure allowing us to mix standard textile or print with the LED screens, we can create tunnels, walls, floors and even ceilings with our LED screens giving you a massive wow factor, below are some examples of our work-
6. Hire LED Screens for (Promotion)
For classic promotional digital signage, LED screens offer the chance to make large seamless LED displays that grab the attention from a distance.
This would replace traditional marketing banners and light walls and are far more flexible and effective, content can also be changed any time and as often as you would like, this can also be done remotely using our content management system.
7. Changing rooms
LED screens are Ideal for the Instagram and social media generation, why not create an LED screen display in the fitting room area, with pre -configured themed content. Take a selfie in Manhattan or on the top of a mountain, and show off the product you are trying to all your friends.
This type marketing has been extremely successful for our clients, not only have we created this for the fitting room areas we have created this at large office complex reception areas for 1 or 2 day promotions and fashion shows and has created an instant buzz online.
8. Cash desk
Cash desk areas are the perfect location to promote new products of cross channel marketing.
9. Special events/live streaming
Pop up LED screens are ideal for launching new products and showing off a new promotion within a retail store –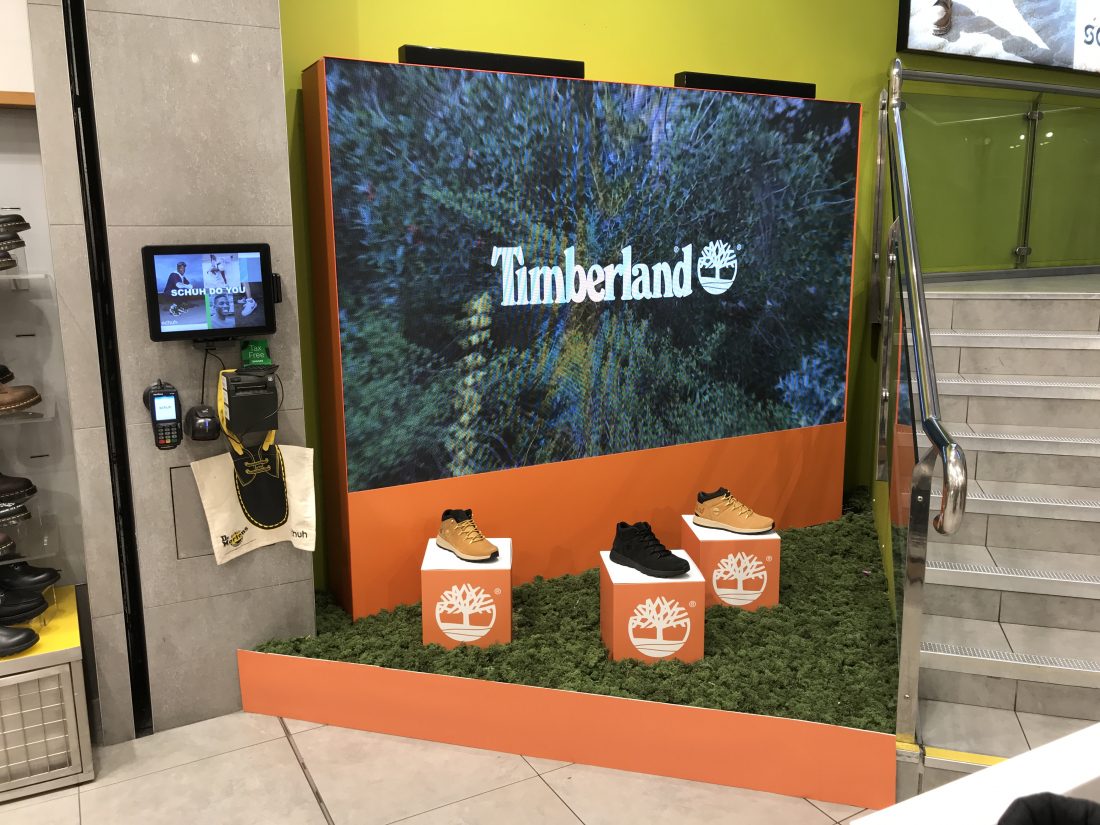 10. Storytelling
Does your company have an interesting story to tell? Do you want to share a message with potential customers? Use an LED wall with a specifically created video content and let the world know all about your company.
You could be talking about being eco friendly or sourcing goods ethically, all this makes a huge impression on potential customers.
Advantages of LED over other technologies…
Advantages of LED screens over other technologies
High brightness
LED displays range from 700 nits to 12.000 nits, depending on the model and the use, meaning that the displays are always eye-catching. Brightness can be adjusted automatically through light sensors. Your screen will never go unnoticed.
Images needed …………
Design Flexibility with LED Screens
Think of LED as being like small building blocks, and express your creative side. Don't be limited by 16:9 proportions, think outside the box to create unique displays that draw attention more effectively than standard formats.
Seamless
Avoid unsightly joins, or seams, between panels. LED displays are completely seamless, giving the effect of being one large display, although made up of smaller blocks which facilitates transport and installation.
LED screen budget
Take advantage of the range of pixel pitch options LED offers you, and decide if you prefer a small high definition screen or a larger lower definition screen, for the same budget. Let us help you choose the best option for your store.
Durability with LED screens
Higher pixel pitch (P2.5+) LED displays are tough and durable, making ideal for the retail environment where the public have direct access to the screen. Even lower pitch displays will rarely fail as a whole, the screen itself will continue to work. Avoid ugly and expensive breakages.
Future Proofing
Worried that your screen will look outdated after a number of years? Although our experience tells us that a good LED installation has a long life-span, rest assured that LED can also easily be substituted at a later date for a higher resolution model without expensive refits.
On-site maintenance and repair
Our LED displays are easily maintained and easily fixed on-site, with spare parts readily available. Avoid having to replace a whole video-wall because the model is no longer available, and avoid long delays in receiving a replacement. Also avoid replacement parts being much brighter than the originals.
If you would like more information please do not hesitate to contact us by phone on 0207 701 9444 or via email at info@londonaudiovisual.co.uk
Other screen for retail use.